Watch Latest Episode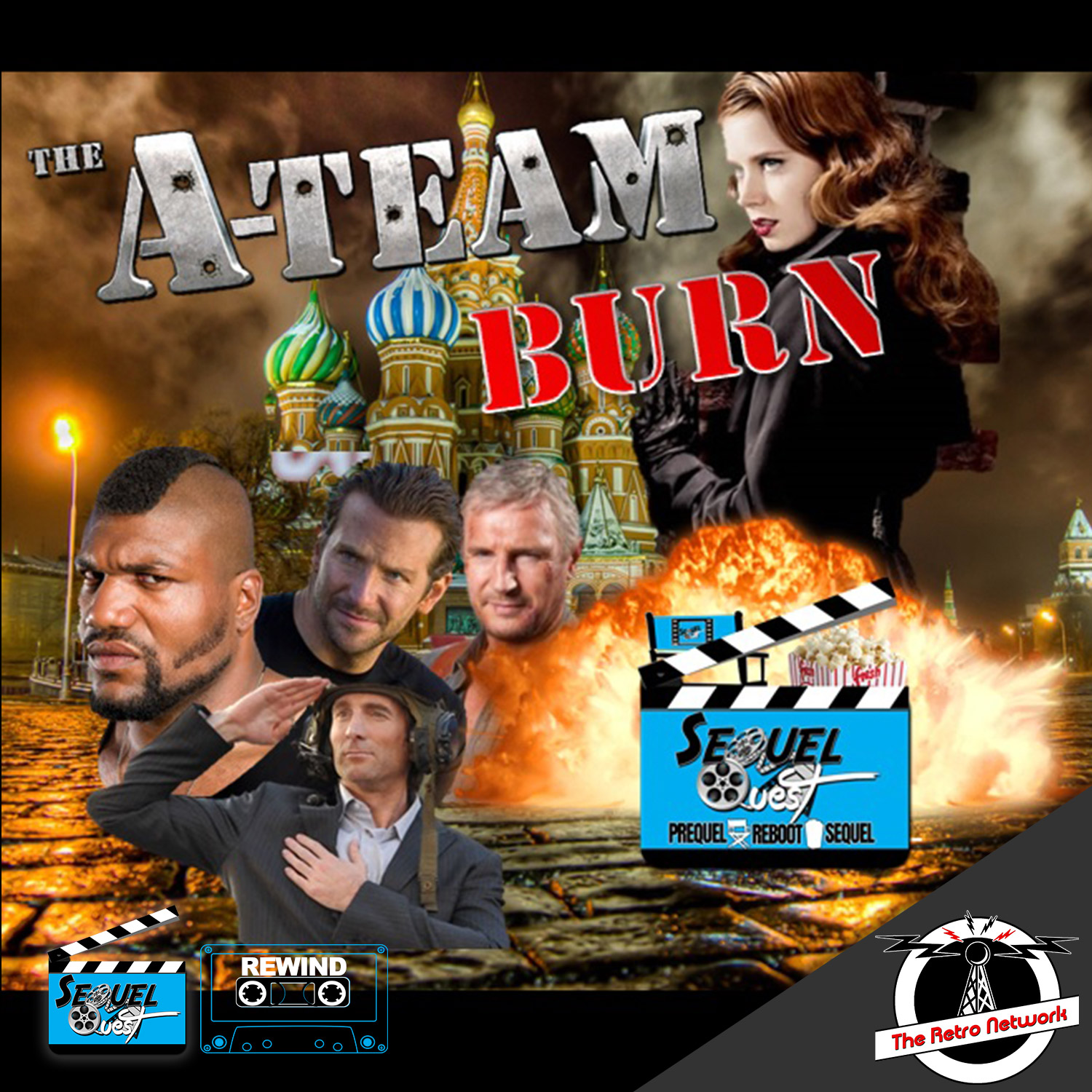 SequelQuest Rewind | An A-Team Movie Sequel | EP85
SequelQuest Rewind | An A-Team Movie Sequel | EP85
 (From September 2018)
We love it when a plan comes together. In 2010 the 1980's prime time hit The A-Team was adapted to the big screen and promised big action and big fun, but was unfortunately a big bomb at the box office. Even with the star power of Liam Neeson, Bradley Cooper, Sharlto Copley and Quinton "Rampage" Jackson, The A-Team movie just didn't connect with fans of blockbuster cinema.
SequelQuest loves a challenge as much as Mr. T loves gold chains and that's why Adam and Jeff along with returning guest, Carlin Trammel aka CT from the Nerd Lunch podcast decided to take on the mission of pitching an A-Team sequel that will knock the cigar right out of your mouth.
Hop into our custom van as we discuss our nostalgia for the original A-Team TV series and the mountain of merchandising that came with it's success, as well as a debate the merits of the big screen version that may deserve a second look.
So who will Hannibal, Face, B.A. and Murdock take on in The A-Team 2? The bad guys range from drug lords to ghosts from Hannibal's past but they all add up to trouble that gives our favorite group of highly skilled mercernaries a chance to strut their stuff.
While you won't have to "get on no plane", we're telling you to get "on the jazz" and listen to the podcast, Fool!
Stream our SequelQuest Back Catalogue from the links below or find the show on the NEW TRN Feed on iTunes, Stitcher, Google Play, Podbean, SoundCloud and more.
SequelQuest Back Catalogue:
NEW! Now on Spotify as well! https://spoti.fi/2IrmZOF
iTunes http://apple.co/2qJQwux
GooglePodcasts http://bit.ly/2qwIkl7
Soundcloud http://bit.ly/2p28pIL
TuneIn http://bit.ly/2pKRWWf
Stitcher http://bit.ly/2BJaBGm
Podbean http://bit.ly/2nqSQHz
NEW TheRetroNetwork Feed:
TRN Apple Podcasts: http://bit.ly/TRNpodFeed
Credits:
Intro Music
Music: "Let's Go Back" performed by Donovan Raitt
Music: Bensound.com "Instinct"
Exit Music
Music: "Let's Go Back" performed by Donovan Raitt
Technical Producer: Jeramy Hubbard
Social Media Producer: Adam Pope & Jeramy Hubbard
Website: http://theretronetwork.com
Website: http://sequelquestpod.com
Twitter: @SQPod
Twitter: @TRNsocial
Instagram: @ SequelQuest
Facebook: Sequelquest
All rights to the individual Intellectual Properties discussed on SequelQuest are under the ownership of their respective current owners, no copyright infringement is intended.